Jan 27, 2022
Denise Thomas of ApplePie Capital joins Peter Renton on the Fintech One-on-One podcast from LendIt Fintech.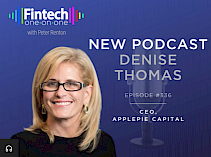 The franchise industry is unique. While the franchisees are often small businesses run by entrepreneurs, the franchisors they work with can be large businesses. It is an unusual space to underwrite when it comes to small business loans, so it requires unique expertise to do well.
Our next guest of the Fintech One-on-One Podcast is Denise Thomas, the CEO and Co-Founder of ApplePie Capital, they are specialists in franchise financing. We last had Denise on the show five years ago and I wanted to get her back on to see how the franchise industry has been doing and how her business has evolved.
In this podcast you will learn:
How ApplePie Capital has grown over the last five years.
Their typical loan size.
How they participated in the PPP.
Their remarkably low loss rate during the pandemic.
Why franchise businesses are more stable than a regular small business.
Why they did record loan volume in the last six months of 2021.
How they segment the franchise market.
The areas of franchising that is growing the fastest right now.
How they underwrite their loans.
The creative structured financing programs they have in place.
How they are working with First Internet Bank.
Why bank syndication is a new growth area for them.
How they got BHG as their equity and lending partner.
What is on tap for ApplePie this year.